Upgrade Your Playing Surface with Top Sports Flooring Solutions
When it comes to sports, having the right playing surface is crucial. Our sports flooring solutions are designed to take your athletic facility to the next level. Whether you're an athlete, coach, or facility manager, you understand the importance of high-quality flooring.
Our hardwood sports flooring provides the perfect balance of durability, performance, and aesthetics. It's the ideal choice for basketball courts, volleyball courts, and more. The natural beauty of hardwood not only enhances your facility's appearance but also delivers top-notch performance.
For versatile and low-maintenance options, explore our synthetic sports flooring. With materials like rubber, vinyl, and polyurethane, you can enjoy shock absorption, easy upkeep, and customization possibilities. These surfaces are suitable for a wide range of sports and applications, making them a versatile choice for your facility.
Indoor or outdoor, we have the right sports flooring solution for you. Our installation process is seamless, and our team ensures attention to detail at every step. Don't compromise when it comes to your sports flooring. For the highest quality, durability, and performance. Upgrade your playing surface today.
Quality Sports Flooring Matters in Sports Facilities
In the world of sports, every detail counts, and the playing surface is no exception. The significance of high-quality sports flooring in athletic facilities cannot be overstated. It serves as the foundation upon which athletes' performances are built, making it an essential element of any sports facility.
Our commitment to delivering top-notch sports flooring solutions is rooted in the understanding that the right surface can greatly impact performance and safety. Whether you're running, jumping, dribbling, or making quick turns, the quality of your flooring matters.
We specialize in providing sports flooring solutions that enhance athletic experiences. Our hardwood sports flooring offers a winning combination of durability, exceptional performance, and visual appeal, perfect for basketball courts, volleyball courts, and more. For versatile and resilient options, explore our synthetic sports flooring range. Engineered with materials like rubber, vinyl, and polyurethane, these surfaces offer excellent shock absorption, easy maintenance, and customizable designs to suit various sports and activities.
When it comes to sports, every move counts, and that's why we believe in delivering sports flooring that elevates the game. Choose to ensure that your athletes perform at their best on a surface designed for excellence.
Discover Our Range of Sports Flooring Options
We invite you to explore a diverse and comprehensive array of sports flooring solutions that cater to the unique needs of athletes, sports facilities, and enthusiasts alike. Whether you're outfitting a professional sports arena, a community recreation center, or a home gym, we have the perfect flooring option for you.
Our range includes hardwood sports flooring, an excellent choice for those who seek a harmonious blend of durability, performance, and aesthetics. These surfaces are tailor-made for sports like basketball and volleyball, offering not only a robust foundation for competition but also an inviting and visually appealing atmosphere.
If you're looking for versatile, low-maintenance alternatives, delve into our synthetic sports flooring options. Crafted from materials like rubber, vinyl, and polyurethane, these surfaces provide superb shock absorption, easy upkeep, and endless customization possibilities. From indoor gyms to outdoor courts, our synthetic flooring is designed to meet your specific requirements.
Whether you're a sports facility manager, an athlete, or a sports enthusiast, you'll find the ideal sports flooring solution with us. Explore our offerings, and let us help you make the right choice to elevate your sports experience to new heights.
Expertise and Experience:

With years of experience in the industry, we have honed our expertise to deliver exceptional sports flooring solutions. Our skilled professionals have a deep understanding of the nuances of sports flooring, ensuring that your project is in capable hands.

Quality Assurance:

We are committed to providing the highest quality sports flooring materials and services. Our products are sourced from reputable suppliers, and our installation processes are executed with precision to meet industry standards.

Customized Solutions:

We recognize that every sports facility is unique. That's why we offer customizable solutions to suit your specific needs. Whether you need a hardwood basketball court or a rubberized track, we tailor our services to your requirements.

Customer Satisfaction:

Our dedication to customer satisfaction is unwavering. We work closely with you from project inception to completion, ensuring that your vision is realized. Our responsive team is always available to address your concerns and questions.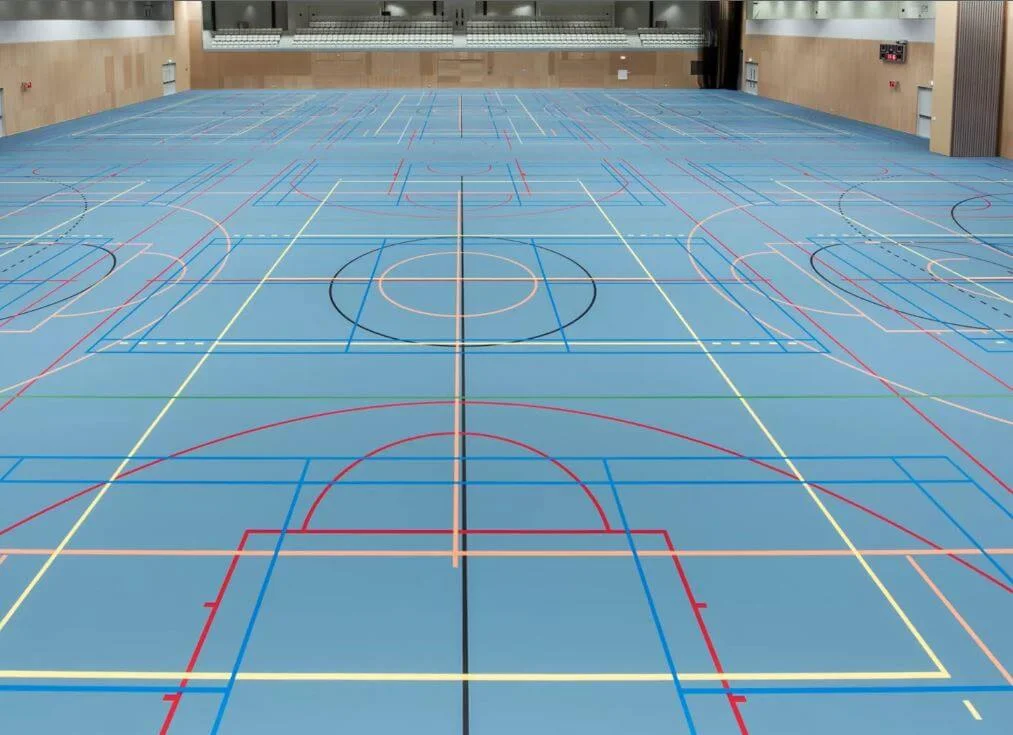 Competitive Pricing:

We believe in providing top-quality sports flooring without breaking the bank. Our competitive pricing ensures that you receive value for your investment.

Timely Project Completion:

We understand the importance of timelines in sports facility construction. We strive to complete projects efficiently, so you can get your facility up and running as planned.

Proven Track Record: Our portfolio boasts successful projects in a variety of sports Flooring. We've earned a reputation for delivering on our promises and exceeding expectations.