The Most Affordable Flooring Installation Services In Dubai
A house may become a home with the correct flooring decision. To make your interior design come to life, choose from a wide variety of colours and textures in various materials, such as carpet, laminate, wood, and vinyl. All of our floors are simple to install and keep clean.  The surface protectors provide improved durability and lower lifecycle costs for a clean and pleasant environment. Our flooring is made to help maintain good indoor air quality because we spend more than 90% of our time indoors.
A new flexible installation technique from Flooring Shop Dubai may be set up in three different ways. Our flooring system can be installed by tapping, row-by-row installation, or plank-by-plank installation. Our multipurpose system saves time because multiple people can work at once.
The flooring is installed piece by piece, creating a sturdy surface. We guarantee that the installation provides outstanding surface stability. All our floors can be fitted as floating installations in residential and commercial settings. 
You might opt for a full-surface glueing application in high-traffic areas. The flooring's type, makeup, and application area all affect the installation technique. We provide cost guidelines for all of our flooring installation services, including tile, laminate, vinyl, hardwood, and carpet.
DUBAI BRANCH
Risala Furniture LLC 9 24 A street, Al Quoz 1 Dubai – United Arab Emirates
ABU DHABI BRANCH
Abu Dhabi Island, Al Salam Street Behind Abu Dhabi Municipality And FAB Bank Heirs. Of Ibrahim G. Sultan Al Suwaidi Building ONLINE FURNITURE – Showroom no. S2 Abu Dhabi
Best Materials For Flooring Installation
Tile is a fantastic material for rooms with a lot of moisture, such as your kitchen or bathroom, and it can be used in various styles. You can simulate a marble or wood effect with real stone or cement tile or a mosaic pattern in countless shapes and colours. 
On the other hand, vinyl flooring may mimic the appearance of hardwood while being more cost-effective than hardwood. Because vinyl flooring is resilient, water-resistant, and stain-resistant, these rooms also make excellent spaces for laundry, baths, and kitchens. 
Why Choose Flooring Shop Dubai?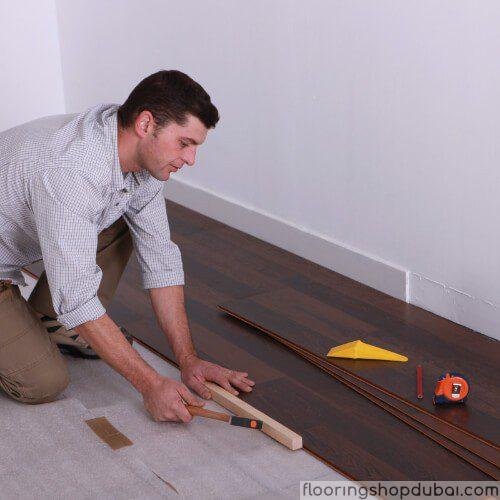 Customer support
Flooring Shop Dubai offers a complete warranty on all labour, goods, and installations. You can relax knowing that the greatest home improvement retailer is supporting your project.
Correct flooring
You cannot beat Flooring Shop Dubai for the flooring installation of your dreams. Our skilled flooring specialists with the knowledge and experience to complete the task correctly.
Trusted installers
Each flooring installer employed by Flooring Shop Dubai is a resident who is also licenced, insured, and whose background has been checked before they enter your home.
Low-cost financing
Along with a single, cheap project price for any flooring installation project, we also provide a wide choice of affordable financing options, such as shopping on a Credit Card.
Our Flooring Installation Services 
Floating installation:
Because it is quick, easy, and versatile, flooring installation is encouraged by our flooring systems. The floor is not secured with screws or glue. The individual boards lie on the subfloor without a bond and are joined by their study pro-file.
Full-surface glueing:
Full-surface glueing is appropriate for installations over a big area and increases walking comfort and ambient noise. They are joined and set on the glue to attach the floorboards to the subfloor.
Skirting installation:
You need the necessary border boards to complete the flooring installation. For all flooring decors, we provide matching skirting boards. You can utilize appropriate corner elements or cut skirtings to fit around corners.